Over time, Internet Explorer (IE) web browser can accumulate and installed with more and more toolbars, browser helper objects, extensions, add-ins, right click context menu items, and other programs which supposedly to help IE users browse the web more effectively and conveniently, but potentially slow down IE, add unwanted and useless craps to the browser, reduce the viewing screen estate, and mess up the settings or preferences.

IE does not provide an all-in-one place to remove and clean up IE add-ons, extensions or toolbars that been added to IE web browser, and worse, some add-ons cannot be deleted from IE. Users who intend to clean up and clear unneeded items from the IE web browsers can use the ToolbarCop instead.
ToolbarCop is a browser extensions manager which can disable or eliminate the following browser add-ons selectively from Internet Explorer:
Browser Helper Objects (BHO)
Toolbars
Standard Toolbar buttons
Context menu extensions
Download managers
Protocol handlers
Horizontal or vertical Explorer Bars (side-search bars)
Startup applications originating from RUN registry keys.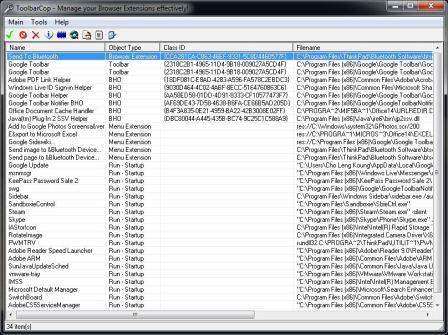 ToolbarCop is a standalone executable, that doesn't require any installation or custom DLLs, except the Microsoft VB6.0 Run-times though. The most recent version of ToolbarCop is version 3.4, which was developed and released by Ramesh Srinivasan back in 2005, mainly for IE6 in Windows 98, Windows XP, Windows ME, and Windows 2000 environments. However, it should continue to work in IE7 and IE8 in Windows Vista, Windows 7, Windows Server 2003 and Windows Server 2008 (including R2 version), although newer features such as accelerators, search providers, InPrivate filtering does not been supported.
Tip: In Windows 7 and Vista, run the program as administrator.
Download ToolbarCop v3.4: toolbarcop.zip.
To use ToolbarCop, just extract the executable to a folder, and run Toolbarcop.exe. ToolbarCop automatically creates the backup files inside the folder which the ToolbarCop is run. The backup is basically registry registration entries file which will undo (add back) the deleted registry keys.