Previously we mentioned about TaskSwitchXP that can enhance window management capability in a system that is full with multiple running applications, now there is another software utility that being designed to simplify the whole manageability process targeted for those that always have many opened windows in PC system. Named as WindowSpace, it can manipulate window screens in various way using simple hotkeys to organize your desktop space more effectively.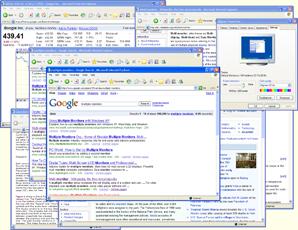 Once installed and launched the software utility, it will bring users to a simple setup screen. Over here, users can click on the 'Snapping' or 'Moving & Resizing' tabs to enable snapping or shortcut keys to move and resize windows respectively. For instance, users can snap windows so that all of them well aligned with each other as well as to the edges so that they fit well into your tiny desktop screen. The most powerful features of this utility is the Hotkeys that can be enabled to control any active window or desktop windows easily. Now users can select the hotkey combinations to maximize window horizontally/vertically, minimize to system tray, cascade windows easily with only simple clicks.
WindowSpace is compatible with Windows 2000, XP and Vista and can be downloadable here. If you need a 64-bit version, please get it here.