After several months in beta, the Yahoo! Messenger 10 is now out of the beta version. The final version of the Yahoo! Messenger 10 (10.0.0.1102) has been incorporated with many bug fixes, including some related to new video call feature as well as improved overall stability.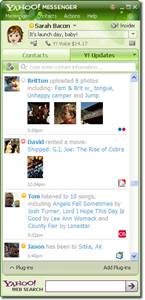 According to Yahoo! Messenger blog, Yahoo! Messenger 10 includes the following features:
Enhanced video calling – feel like you're there with high-quality, full screen video and voice calling.
Keep up with what your friends are doing – see your friend's latest updates from Yahoo!, Flickr, Twitter and more with the new "Updates" view.
Improved language support – change your preferred language in Yahoo! Messenger with just a few clicks High-quality video calls.
Instant Messaging – send text messages in real-time to your friends on Yahoo! Messenger.
Chat Rooms – Join a chat room to meet new friends while you discuss your favorite topics.
Photo Sharing – share photos from your desktop or Flickr, then discuss them over IM while you and a friend view them together.
PC-to-PC Calls – make a voice call to another Yahoo! Messenger user for free (microphone and speakers/headset required).
Phone Out (PC-to-Phone Calls) – Call friends on their regular or mobile phones from Messenger for as low as 1¢ a minute (Phone Out account required).
Phone In (Get a Phone Number for Messenger) – get a new phone number that allows you to receive calls in Yahoo! Messenger (Phone In account required).
SMS (Text Messaging) – send text messages from Messenger to your friends mobile phones for free.
Webcam- plug in your webcam to share live video with your friends on Yahoo! Messenger.
IM Conferencing- instant message with many friends at once in a conference room (includes voice capabilities, where available).
IM with Friends on Other Networks – IM with friends who use Windows Live™ Messenger, Reuters Messaging, and Lotus Sametime — right from Yahoo! Messenger.
File Transfer – send files instantly to a friend while you IM (2 GB limit).
The new Yahoo! Messenger 10 is currently available for Microsoft Windows, Apple Macintosh, mobile devices, iPhone and a web version. Just head to the following URL to access official Yahoo! Messenger 10 download page, or download standalone offline full version Yahoo! Messenger 10 Final setup installer:
:
Yahoo! Messenger 10 for Mac: http://download.yimg.com/ycs/msg/dl/mac/yahoomessenger_3.0.0build192773.dmg
Yahoo! Messenger 10 for Mobile: m.yahoo.com/messenger
Yahoo! Messenger 10 for iPhone: http://messenger.yahoo.com/platform/iphone/