Designed for taking aerial photography or video for aerial observation and recording purposes, the new Draganflyer X4 is a small, affordable and reliable unmanned aerial vehicle (UAV) that carry lightweight wireless video and still camera suitable for industry use. It is another UAV by Draganfly Innovations under the Draganflyer series.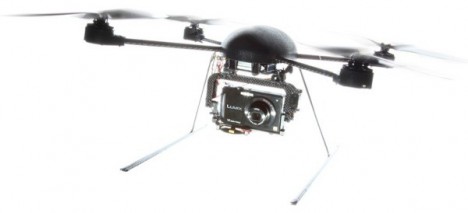 Compared to Draganflyer X6 which was released end of last year, Draganflyer X4 is a trimmed version with lower specifications and of course price as well. Weighing 680gram with battery and bodied with carbon fiber, the Draganflyer X4 features 4 carbon fiber rotor blades and 4 motors. The X4 copper is equipped with advanced flight sensors and comes with 3 accelerometers, three gyroscopes, three magnetometers and a barometric pressure sensor. The flying detective allows multiple camera modules to be installed and attached to it depending on users' needs. Users can opt for the
25/812.1 MP digital still camera with 720p video recording, low light video camera, thermal imaging video camera or micro color video camera. The flying object can be controlled remotely via an OLED touch screen. Besides remote control, the X4's advanced autopilot feature also helps users to get their job done.
The Draganflyer X4 will be useful for aerial monitoring purposes. Users can use it to monitor huge compounds such as a big factory, farm, campus, development site, etc. The price for this interesting flying object is estimated at about $10,000.