Compared to their ancient wheel-spinning predecessors, sewing machines have indeed come a long way. The latest to commemorate Brother's centennial anniversary, the Innov-is6000D Quarto Sewing and Embroidery machine, incorporates some advanced technologies which take sewing to a new height.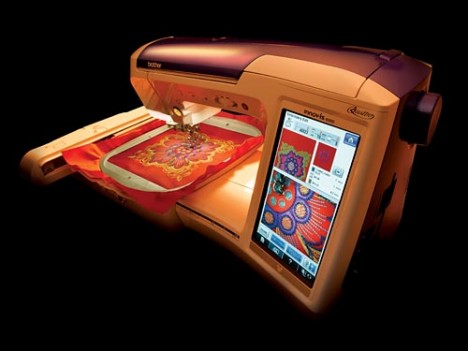 Targeted at expat's wives, hobbyists and entrepreneurs, the Innov-is6000D does not only excel in sewing but also embroidery, quilting and crafting. Featuring an 8.5-inch touchscreen LCD, Innov-is6000D also comes with three USB 2.0 ports to attach compatible peripherals or to transfer the latest downloaded stitching patterns. There are 601 patterns to choose from and users can even download or make their own patterns via the software provided.
Other features include a built-in camera attached to the needle to zoom in for a close-up in case the stitches need more careful attention or amending. The illuminated working space of the machine not only provides better visibility but also lends enough light for the camera to function optimally.With state-of-the-art technologies such as InnovEye Technology, an Up Close Viewer function and Runway Lighting, Innov-is6000D is truly a wonder machine that can inspire seamstress and tailors to come up with truly sensational pieces of sewing or art.
Priced at S$11,888 (about $7,807), Innov-is6000D is not cheap but would probably make sound investment for the sewing enthusiast or budding entrepreneur.