Easeus Partition Manager is a comprehensive hard disk volume or partition management tool similar to Partition Magic that serves as the replacement for Windows built-in Disk Management user interface. Easeus Partition Manager provides all types of basic and advanced functions such as ability to resize and move partitions, create, delete and format partitions, hide and unhide partitions, supports RAID and much more.

Key Features of Easeus Partition Manager:
Support hardware RAID
Resize and move partitions without losing data
Create and delete partitions with simple step
Label partitions – assigned to a partition for easier recognition
Format partitions with a click
View Disk/Partition property of each partition
Hide and unhide partitions – protect important data from unauthorized or casual access
Set an active partition – specify one partition to be the boot partition
Preview the effects of partitioning a hard drive before implementing anything
Change cluster size automatically and manually
Support hard disks from 20GB to 800GB
User-friendly interface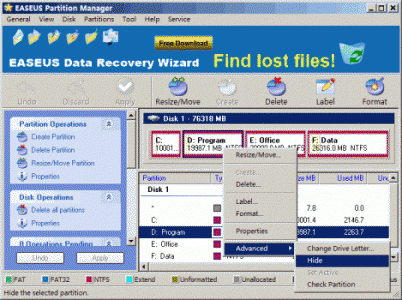 Easeus Partition Manager Personal Edition is free for home users for unlimited usage without restriction. Every person can download and install Easeus Partition Manager for personal use. However, Personal Edition of Easeus Partition Manager only supports Windows XP and Windows 2000 SP4, but not Windows Server 2003 Server or Windows 2000 Server and Advanced Server editions.
Download Easeus Partition Manager Personal Edition (free of charge). Server edition ($149.00) (aff) and unlimited usage edition ($499.00) (aff) is also available at partition-tool.com, or download using the direct link to Download_epmserverdemo2.1.exe (aff) and Download_epmprodemo2.1.exe.
EASEUS Partiton Manager Home Edition 2.0 is available.