East-Tec Eraser 2009 is the excellent utilities software that can erase all traces such document, email data, Internet history, web pages, pictures, unwanted cookies, chat room conversations and protect the privacy data. It can deeply erases entire files and folders of CD/DVD disks, USB drives or hard disk drives. In addition, East-Tec Eraser 2009 also can speed up the computer performance by delete unnecessary or temporary files. On the other hand, East-Tec Eraser 2009 comes with intuitive user-friendly interface, Anti-Surprise (Anti-Boss/Panic), password protection feature, and built-in safety features to prevent accidentally removing files or folders.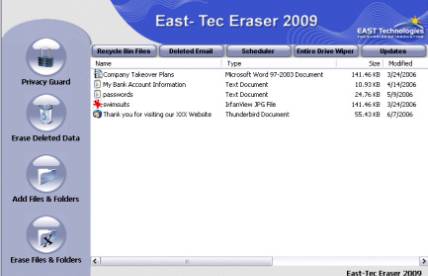 Key features of East-Tec Eraser 2009:
Protects privacy and identity
Completely cleans browsers history
Improves system performance
Permanent erasing
Automatic Protection
Entire Drive Wiper
Anti-Surprise (Anti-Boss or Panic) Key
Flexible and personalized protection privacy and cookies
Deleted all evidence online activities
Clean traces of the documents and files
Remove cookies placed on your computer by Web sites
Supports the most popular Web Browsers
Supports all types of popular programs such as Messenger, Email, News, Player and P2P Programs
The latest version of East-Tec Eraser is East-Tec Eraser 2010. East-Tec Eraser 2010 normally cost $49.95 (one PC) for purchase. As part of promotional offer, interested users who not mind the old version of East-Tec Eraser 2009 can grab the free full version license key which will be valid for one computer.
To grab a full version of East-Tec Eraser 2009 license key, just follow the step below:
Visit the promotional page:

http://www.east-tec.com/offers/softpedia/2009/eraser/register.htm

Click the GET IT FREE link, and then fill in the form by enter name and valid email address where you want to receive your license key.

Then you will receive conformation email from EAST Technologies Support. Click the link in the email to complete your registration.

Once click the link, it will forward to another web page, and click the "GET FREE KEY" button in the column of East-Tec Eraser 2009.

Download East-Tec Eraser 2009 setup installer: East-Tec Eraser 2009.exe
Install East-Tec Eraser 2009 and enter the serial numbers that is received.
NOTE: Offer for limited time only (expires Jan 31, 2010).
East-Tec Eraser 2009 supports Windows NT 4.x, Windows NT 3.x, Windows 98, Windows 2000, Windows 2003, and Windows XP.
Update: Free East-Tec Erase 2010