By now you should know that you're able to install Windows Vista without using any product key and run Windows Vista as in evaluation or trial demo mode. In this case, Microsoft gives Vista users a grace period of 30 days in order for them to purchase a valid retail Windows Vista license to enter the product key or serial number into the Vista and subsequently activate the operating system to avoid the operating system falls into RFM or reduced functionality mode which severely limits the usability and features of Windows Vista. By default too, Microsoft allows not yet validated Windows Vista to be 'rearmed' (or extend the grace period to activate Windows Vista without restricting to RFM) for up to 3 times.

Hackers have released a crack called Vista Re-arm Unlimited Patch which is a patched slmgr.vbs that once installed, allows users to reset or extend Windows Vista initial grace period for Windows Vista for unlimited times. This 30-days activation bypass trick provides ability indirectly enable you to use Windows Vista for extended period of time without the need of a valid volume license key (VLK) or product key, and skip or bypass Vista activation requirement and request.
However, if you think that it's too complicated to install the Re-Arm_Unlimited_Installer_2.0.exe manually and then type the command of "slmgrhack -rearm", Vista Reset is the simple tool for you. Visit Reset enables you to extend, or rearm or reset Windows Vista activation grace period 30 days count.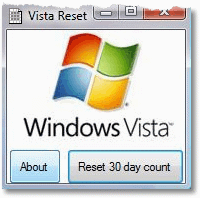 Download Vista_Reset.zip which contains "Vista Reset.exe".
Extract the archive.
Right click on "Vista Reset.exe" and select "Run As Administrator". Alternatively you can disable UAC.
In the Vista Reset window, click "Reset 30 day count".
Restart computer, and Windows Vista time left to activate should be reset back to 30 days initial grace or evaluation period.
Repeat the reset whenever the countdown timer of 30 days almost runs up or expires.
Disclaimer: This article is for educational and information purpose only. You can purchase Windows Vista which is scheduled to be launched end January.