An award-winning smart digital pen is just what we need. Livescribe has a wide array of state-of-the-art digital devices that makes studying and communication more effective. The stylus can take notes and record audio simultaneously; it allows both to be utilized for easier recalling of information and knowledge as well as ease of sharing with others. One can tap on the notes written in the Dot Paper Notebook and play them as audio in real time.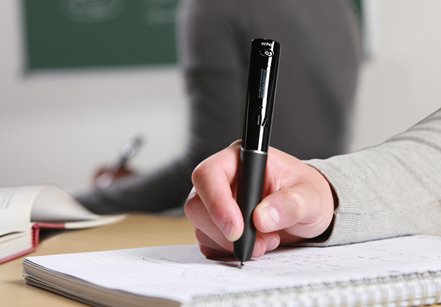 Unlike its predecessor, Pulse Pen, Livescribe's new design is slimmer with a new ergonomic grip. Available in 4GB or 8GB for $169.95 and $195.95, respectively, Echo Smartpen also has a 3.5mm audio jack and a micro-USB port for uploading to the computer. Moreover, the pen comes with optional password protection for notes as well as the user's chosen name for the pen to be displayed on the LED display. EchoSmartpen can be used with apps in the Livescribe Application Store including a dictionary that will give definitions for handwritten words penned by the stylus.
New Smartpen and Livescribe Desktop Features:
Launch Line: a new way to access and launch applications in seconds
Password protection: ensures recorded audio on your smartpen remains private and safe
Custom smartpen name: display a name or other contact information on the OLED screen, making identifying the owner of a smartpen easy
Custom notebooks: group and organize notes as easily as creating a playlist in iTunes
Pencast import/export: save and share pencast files locally to your desktop, a server, or to send to others as an integrated audio/notes document. Anyone with the Livescribe Desktop software (free download online) can now open, view and interact with a native Livescribe file
English, French, Italian, German, and Spanish are supported for Mac and PC; Korean and Chinese are only supported in the Windows version.