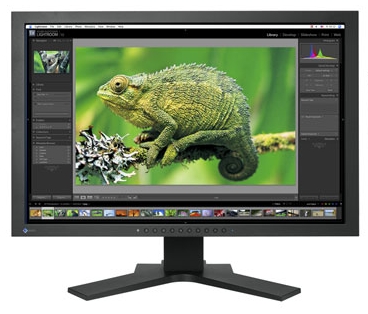 Japanese computer display manufacturer, Eizo (Kabushiki-gaisha Nanao), has brought to users a new model in its ColorEdge series – the CG241W. This new high-end monitor features both 12-bit hardware calibration and 6ms response time. This 24.1-inch wide screen monitor is designed ideally for a wide range of tasks including pre-press, video editing, digital photography, data analysis, and post-production.

The ColorEdge CG241W comes with a native resolution of 1920 x 1200, 850:1 contrast ratio, 300 cd/m2 brightness, 178° viewing angles and Dual DVI-I inputs. With the 1920 x 1200 resolution, the high-end monitor is able to display full 1080p HD video with thin black borders at the top and bottom of the screen. The wide gamut LCD panel reproduces 92 percent of NTSC and 96 percent of the Adobe RGB color.
With the built in EIZO ColorNavigator CE Software for ColorEdge CE models, the colors adjustment within the monitor becomes easier. What you need to do is to key in target values for brightness, white point and gamma. ColorNavigator CE will do the rest by accessing the 12-bit or 10-bit Look-Up Table of the monitors for accurate and reliable calibration within a short time. This hardware calibration capability is designed to ensure accurate on-screen colour results with no color tones lost. Get to know more about Eizo Calibration Software.
This is a summary of other benefits offered by Eizo ColorEdge CG241W:
Wide Color Gamut
The wide gamut LCD panel reproduces 96% of the Adobe RGB color space so it can display most colors in a photograph taken in Adobe RGB mode. It also covers CMYK color spaces used for printing so the monitor can produce a reliable soft proof when calibrated.
Widescreen Format
The wide screen format with its 16:10 aspect ratio offers more horizontal viewing space than conventional monitors. Two applications such as a text document and web browser can be viewed side-by-side, or graphics applications can be opened and work palettes displayed simultaneously without any overlap.
Factory Adjustment of Gamma
To ensure that each ColorEdge CE monitor produces the most accurate and consistent color gradations possible, EIZO carefully measures and sets every shade of R, G, and B from 0 – 255 on the production line with the monitor's 12-bit Look-Up Table, to produce a monitor gamma value of 2.2. Should the user prefer a different value, ColorNavigator CE software can be used to set the gamma value from a range of 1.0 up to 2.6 in increments of 0.1.
6 ms Midtone Response Time
To enhance moving image playback capabilities, an overdrive circuit is included. An overdrive circuit vastly improves the LCD panel's response time for changing between midtones or gray levels, which is necessary to display color images without blurring.
Brightness Stabilization Function
Ensures stable brightness – necessary for the proper display of color – with EIZO patented technology*. A drift correction sensor quickly stabilizes the brightness level after startup or coming out of power saving mode. Furthermore, the monitor detects and automatically compensates for brightness changes caused by surrounding temperatures and the passage of time.
Protanopia and Deuteranopia Simulation in Real Time
Simulates* two types of red-green color vision deficiency – protanopia and deuteranopia. The ColorEdge CG241W does all the color conversion processing in real time – even moving images. With the bundled UniColor Pro software (Windows Vista/XP/2000 and Mac OS X 10.3.9 or later only) – also developed by EIZO – the designer can instantly switch from a normal viewing mode to the Protanopia and Deuteranopia viewing modes. Until now, tools available for simulating color vision deficiency have been software based so the color conversion process can be time consuming depending on the size and quantity of images to be converted, making these tools of limited practical use.
Placement Flexibility
The stand is height adjustable through an 82 mm range and provides 40° tilt and 70° swivel so every user can easily set the ideal position. It also pivots 90° for portrait mode viewing. Compatibility with VESA mounting standards allows the monitor to be removed from the stand for mounting on a movable arm or wall bracket.
Customer Assurance
A five-year warranty offers a long service life, and compliance with leading industry standards such as TCO'03 and TÜV Ergonomics ensures a better working environment. The EIZO Eco Products 2006 label indicates these products meet strict internal requirements for design, manufacturing, packaging, and usage, including the introduction of lead-free solder and chrome-free steel plates.