Japan's high quality computer display manufacturer, Eizo, has unveiled two new 22-inch high resolution monitors namely FlexScan S2232W-E (1680 x 1050) and S2242W-H (1920 x 1200) today. The specialty about these two new models is they manage to overcome the normal color limits in other conventional monitors. These two new models from Eizo feature new and wide color gamut panels which are able to cover 95% of the Adobe RGB color space and 92% of the NTSC space. The normal conventional LCD monitors can only display general sRGB and up to 72% NTSC. This high-resolution and quality colour output monitors are suitable for graphics professionals for graphical work such as editing moving images, video, etc.

Both Eizo FlexScan S2232W-E and S2242W-H support 10-bit hardware LUT and accept both VGA and HDCP-compliant DVI input. Besides the impressive colour feature, the Eizo FlexScan S2232W-E and S2242W-H also feature high static contrast, 1,200:1. The response time for black to white piexe is 12ms whereas the grey to grey is 6ms. Another interesting part of these monitors is both models allow users to use either landscape or portrait orientation. Users can easily rotate it to portrait in the event the window in the monitor is too narrow, etc. Both monitors offer a two-port USB hub and an audio input for the onboard 1W stereo speakers.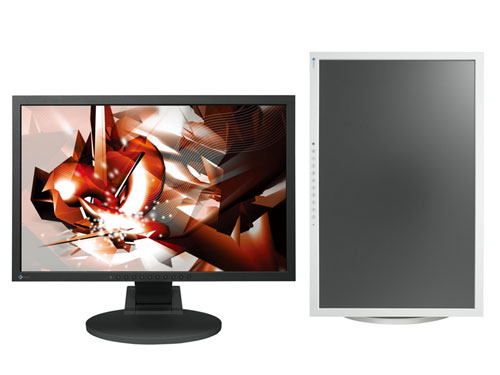 Eizo s2232W-E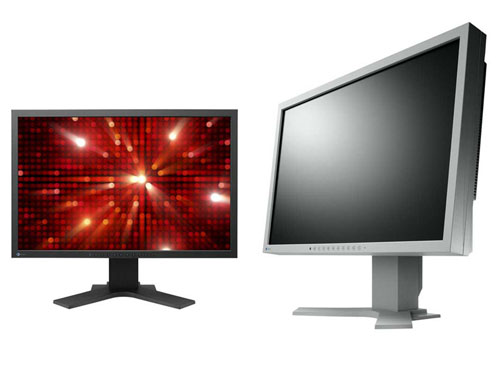 Eizo s2242W-H
With all these sophisticated features, the price of course is not cheap. The retail price for S2232W-E is approximately $75 whereas the S2242W-H is $784.