Apple famous iPad model is scheduled to reach commercial market soon but while waiting for its arrival, many PC manufacturers have already started to follow the trend to create new portable device based around tablet PC functionality. Similarly to Ekoore, an Italian based company that has recently announced readiness to ship its first Intel Atom based tablet PC primarily for Italian market.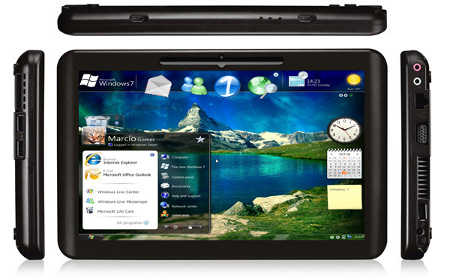 Named as ET10TA10, it is an Intel Atom N270 based tablet PC solution that is expected to be preloaded with Ubuntu or other Linux and even Windows Operating Systems since it is based on X86 architecture. Internally, the Atom processor is paired with 945GSSE chipset that can be used to offload some graphics intensive processing besides providing sufficient interfaces just like conventional PC system. Some hardware specifications include a 1GB DDR2 memory RAM (upgradable to maximum of 2GB), a built in 160GB SATA hard disk drive, PCI Express slot for 802.11b/g/n WLAN technologies, three USB ports, Ethernet for networking, legacy Realtek audio as well as VGA video output ports suitable multimedia usages. All these are well packed into a tiny form factor measured around 280 x 180 x 24mm and weighted at 1kg. And what makes it different from the rest of netbook design is the integrated 10.2-inch 1024 x 600 touchscreen interface that will definitely simplify input method for greater user's experience by able to get rid of hard keyboard.
Currently the ET10TA is already available in Italy at a retail price of around 479 Euros (for either Ubuntu linux and Windows XP Home Edition), with optional 3G and GPS add-on modules at 114 Euros and 54 Euros respectively.