So far until Windows Live Messenger 2009, all versions of MSN Messenger and Windows Live Messenger (WLM) does not support running multiple instances of the program. It means that at any one time, only one Windows Live Messenger program is allowed to be launched, effectively restricts WLM users to login to just not more than 1 account at one time.

In Windows Live Messenger 2009 (current version installable through Windows Live Essentials), Microsoft has added support for running multiple instances of Windows Live Messenger, allowing user to sign in to multi-login and log on to multiple accounts. The helper external third party programs such as MultiLive or MultiMSN no longer required.
The support for multi-WLM is not enabled by default, but can be easily turned on and enable with registry hack.
Run Registry Editor (regedit).
Navigate to the following registry key:

KEY_LOCAL_MACHINE\SOFTWARE\Microsoft\Windows Live\Messenge

For 64-bit (x64) OS, go to following registry branch instead:

HKEY_LOCAL_MACHINE\SOFTWARE\Wow6432Node\Microsoft\Windows Live\Messenger

In the right pane, right click on any blank space, select New on context menu, and then click on DWORD (32-bit) Value.
Name the new registry value entry as MultipleInstances.
Modify the MultipleInstances and set its value data as 1.
Start as many Windows Live Messenger windows as you want from Start Menu.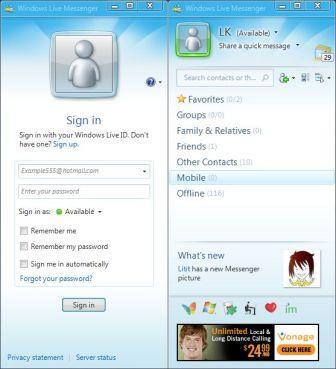 Note that you need a different Windows Live account (MSN Passport user name) and password in order to run two or more instances of Windows Live Messenger. If you have set automatically login upon running WLMessenger, an error may pop up when additional instance is run if your login is still signed in when new instance opening. Just change to your second WL Messenger login.