It is never too early to start children on the reading habit. Even toddlers as young as one year plus can recognize pictures and imitate sounds made by their parents who read to them. Capitalizing on this awareness, LeapFrog's newest Tag reading system includes a small-hands-friendly pen which is designed for toddlers aged two to four. The pen, when pointed at the words and symbols on a Tag Junior book, can read aloud, talk or emit fun sound effects and catchy music. Titles include Disney Pooh Loves To… (action), ABC Animal Orchestra (alphabet), Mr Brown Can Moo! Can You? (sounds), Curious George: Color Fun (colors), etc. to get very young learners to enjoy reading.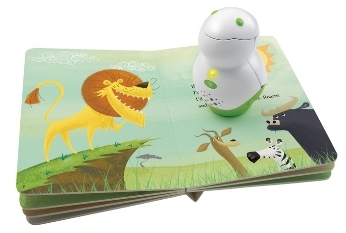 Shaped like a chubby frog and equipped with infrared camera, the Tag Junior Pal works by storing data of the book in its memory. Parents can download additional audio or visual content from the Tag Junior Library. Using the PC- and Mac- compatible LeapFrog Connect Application, parents can change and personalize the content like they manage MP3 or digital photo files to make reading more fun. The handheld can start by calling the toddler by name, for example. Parents can also assess the LeapFrog Learning Path, a free online resource that provides details on children's skills, favourite books and activities as well as supplementary toys to stimulate their interest.
The Tag Junior system is priced at $34.99 and the board books or readers are $10.99 each. These cute handheld devices are available via LeapFrog site towards the middle of 2009.