Looking for a charger and power socket to recharge the mobile phone is quite common for mobile phone users particularly busy businessmen who always spend a lot of time on their phones. Instead of seeking high and low for a place to charge your communication device, Sanyo's new Eneloop Stick Booster could be a good idea to have mobile phones as well as other mobile devices such as personal audio devices, portable game units, etc recharged instantly.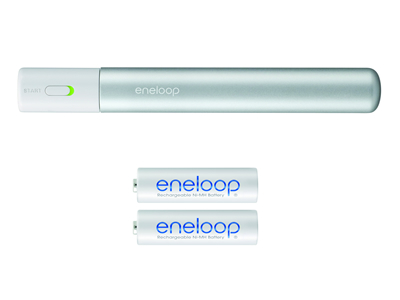 As the name implies, Sanyo's Eneloop Stick Booster is an aluminium stick-type portable charger that can be used to charge mobile devices. Unlike other regular emergency chargers powered by dry cells which can only charge certain phones that do not need high current for charging, this Eneloop Stick Booster sticky charger is able to provide a steady charge to devices that need high current such as Apple iPhone via USB connection. The Eneloop Stick Booster is powered by two AA-sized 'eneloop' batteries which come along with the product. The batteries are rechargeable up to 1,500 times via any USB source. This handy stick charger measures about 18mm (diameter) x 148mm (length) and weighs around 76g (including batteries); it can be easily carried around for any emergency use.
The Eneloop Stick Booster will be released in 1 December in Japan. Perhaps it will be a nice Christmas gift for your busy and absent minded boss or family members who always forget to charge their phones.