The world's market leader for power solutions, Energizer Holdings, Inc. has came out with a solution to supplement the battery power demand of latest Apple iPhone 4, which is poor by Apple standard, with the launch of its new durable, ultra-sleek Energizer AP1201 rechargeable case, which the company claims as the first silicone rubber case with integrated rechargeable battery for iPhone 4. The stylish AP1201 one piece case promises nearly twice the power of iPhone 4 without sacrificing your modern lifestyle, and it's rechargeable up to 500 times according to Energizer.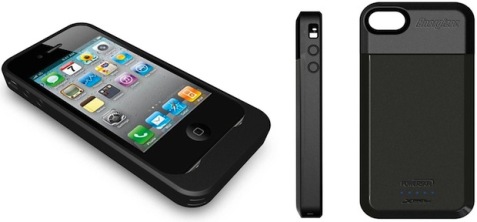 In addition to extended battery power, Energizer AP1201 also offers full protection to iPhone 4 thanks to its built-in bumper that designed to address the signal loss issues, featuring "smart" battery technology that able to show iPhone power status indicated via hidden LED's on its back.
"Energizer appreciates the value and utility that smartphones offer consumers, and also sees that the average consumer's power requirements have been underestimated," commented Jim Olsen, Vice President for Marketing at Energiz North America. "The AP1201 is a direct response to the power deficit that many experience, and is just one of a full line of Energizer Energi To Go solutions that is bringing convenient power to consumers, and that is making mobility easier for them."
In order to achieve efficient power management, a pair of charging options are available – high speed quick charge to iPhone 4, or simultaneous pass-through charge to iPhone and AP1201 rechargeable case.
Energizer AP1201 iPhone 4 rechargeable case that comes bundled with a USB charging cable is now available for $69.99.