Instead of spending some money to get an e-book reader which might cost you from $200 onwards, there are various applications like ruBook, iReading, etc from iTunes App Store that can turn your iPhone or iPod Touch into an eBook reader. You can use it just like other eBook devices such as Amazon's Kindle, Sony's PRS-700BC or the new Foxit's eSlick. Stanza is a cool eBook reader application for iPhone and iPod touch. What makes this application different is its huge free eBook collection. This free app offers more than 100,000 e-reading materials for iPhone and iPod users to download and to read with its simple and intuitive interface.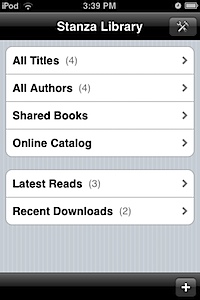 Besides the opportunity to download the e-book collection from Stanza's library, Stanza also offers a desktop program for Mac or PC users to convert their own e-book collection into Stanza recognized format and read them with iPhone and iPod. Stanza offers both landscape and portrait display modes for reading pleasure. It can capture and display the whole single page of a book into the iPhone's screen. Users can save the hassle of having to scroll up and down to read the page. Users just need to flick the pages using their fingertips. This eBook reader application allows readers to bookmark the pages or passages where they have stopped reading. Users can do searches for a specific keyword or phrase with the search icon available. Users also can configure the font's colors, type, size, adjust text spacing or background color to enhance the reading experience.
The e-reading materials available in Stanza's catalog are mostly free. Users also can do purchase of some bestseller ebooks via Stanza for their reading pleasure.