Planning to get an e-book reader so that you can enjoy reading e-reading materials while you are on the move? Foxit Software, the developer for Foxit pdf reader, has come out with an affordable Foxit brand e-book reader to benefit users who like reading. This e-book device, eSlick, is priced at $229.99 for direct purchase ($259.99 retail price), a relatively cheap and competitive price compared to other book readers such as Amazon's Kindle ebook reader at $359 or Sony's PRS-700BC e-book reader at $399.

Weighing about 180g and measuring 7.4 inches x 4.7 inches x 0.4 inches in dimension, eSlick is about the size of a medium paperback. Comparatively, it is lighter than Amazon Kindle and Sony PRS-500. eSlick features a 600 x 800 pixel and grayscale reflective display screen. Readers can easily resize the text without affecting the flow or organization. This tiny device comes in three colors: black, gray or white. It has 128MB internal memory storage and offers USB and an SD Card slot that supports up to 4GB card. The power consumption of this device is not high since the screen draws very little power. A full charge to the battery can last readers for 8,000 page turns.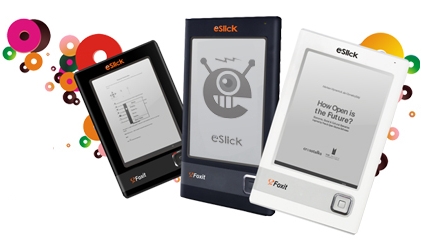 eSlick is a great device for reading magazine, ebook, journal, etc while on the move. Users also can convert their document into pdf format and read it with eSlick. While traveling, users also can plug their headphones into this device and make use of the built-in MP3 player for some music. The down side of this ebook reader is it doesn't have wireless connectivity. Users cannot synchronize reading materials via wireless connection. Users can only download these materials to their computer and copy them manually to eSlick.