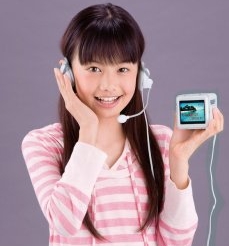 Singing is one way of easing your tension and work pressure. You can easily casy aside your worries, doubts and anger while exercising your musical vocals. You can sing as and where you like. However, singing without music seems to be lacking in something. You can't bring along your guitar or piano with you all the time. What can you do? Well, the ever-enterprising creative Japanese have taken note of your concern and brought to you an innovative device, Hi-Kara. This tiny device is a super mini karaoke machine which you can bring along and sing anywhere and whenever you like! Cool!

Hi-Kira is produced by a Japanese toymaker, Tomy, and it will be released to the market in October. This small karaoke box measures a mere 7cm and features a 2.4″ LCD screen to display graphics and lyrics. Users can plug in up to a maximum of two headsets into this world's smallest karaoke machine to get the music and start showcasing their talents in singing. Hi-Kira will be priced at 10,000 yen. Users who buy this device need to spend another 2,000 yen to buy a cartridge which can hold 10 pre-installed songs or they can browse and download their 10 favourite songs over the internet from a choice of 3,500 titles.
The invention of Karaoke has brought a lot of fun to many people especially those in the mid-age range generation. It's also good singing practice for Idol hopefuls all over the world.This new product will probably create another fashion trend or wave for the young generation. Next time you see two teengaers singing together while keeping their eyes glued to a small box, please don't panic. They are just enjoying the karaoke fun.