Nowadays technology convergence is a trend and have you ever thought of having both netbook and e-reader functionality combined into one? That is how this new machine is so unique about. Named as enTourage eDGe, it features basic functionality of a netbook while able to provide extra e-papar display targeted for consumers that can't live without either one of them.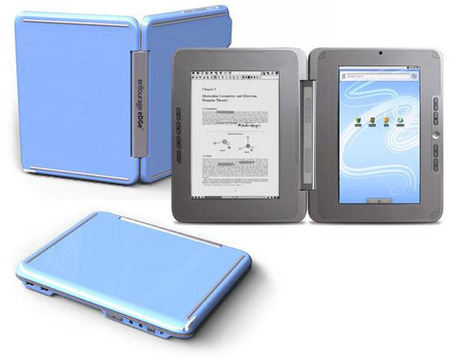 Claimed to be the world's first dualbook, it is equipped with dual screens with one of them in high resolution 10.1-inch color touch screen with 1024X600pixels suitable for media playback, web surfing and office applications while on the other end, it has a 9.7-inch 1200X825pixels sunlight-readable e-reader screen with e-Ink technology that makes e-book reading a much pleasurable experience. Besides, it has been enhanced with wireless technologies such as WiFi as well as optional 3G/HSDPA modem for seamless connectivity while on the move. Other specifications include an internal 4GB memory for internal storage, USB ports and expandable SD card slot for external storage, web camera, audio recording and many more. All these are well packed into a 8.25 X 10.75 X 1-inch form factor with only 2.5 pound in weight. Impressively, the built in Lithium Ion Polymer battery is claimed to be able to last for six hours without the need of recharging so that it can be fully utilized as a mobile companion with such great features on the go.
Retailed at $490, the enTourage eDGe combo machine will be available by February next year and it will definitely fit well in both hot selling netbook and e-book reader market segments.