Miniature projector is not something new but with the increase processing power integrated directly into the device, users can start relying on the tiny device for some standalone applications without the need to connect to UMPC (Ultra Mobile PC), MID (Mobile Internet Device) or smartphone devices to fetch the video or audio inputs. Similarly to Epoq EPP-CEP1, it utilizes the same concept that allows it to be a standalone multimedia PC suitable for consumers that are always on the move.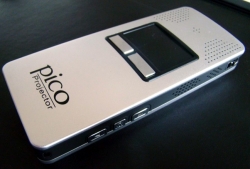 Being powered by Samsung ARM 9 Core 2442 clocking at 400MHz and preloaded with Windows CE 5.0 Operating System, the miniature projector is more than just a projector and instead, it is equipped with standalone processing capability that can run any Microsoft Office applications such as Word, PowerPoint, PDF documents and etc. Other than formal office usages, it is definitely able to run compatible multimedia files such as commonly used JPEG, BMP images files as well as WAV and MP3 audio files just like typical PC system. Good thing is, all the image files can be projected up to 50-inch diagonal screen size (although with just VGA 640 X 480 resolution) for effective file sharing and discussion. Physically, the projector is equipped with USB host 2.0 ports that enable users to plug in keyboard or mouse for easy operability. Besides, it is being enhanced with SD slot that can support up to 4GB external memory expansion for plug and play. Internally, it consists of a 64MB SDRAM and 64MB NAND flash and all these are packed into a tiny dimension of 138.5 X 58.5 x 25mm weighted at only 168g.
The Epoq Pico Projector is already available now and at a retail pricing of $359.95, it is a bit pricey for average users but will definitely fit business executive or professionals ' needs without the need to carry bulky notebook for customer presentations.