Released in October 2006 by Epson, the first thing you'll notice about the EMP-TW700 is the huge box that it comes in. Weighing more than 5kg and with dimension 406 by 124 by 310mm, the EMP-TW700 is not a portable projector. Rather, it is a mid-range home projector designed for the serious home theatre enthusiast looking for a huge, high-quality display at a reasonable price. Epson EMP-TW700 is a stylish home cinema projector that performs in any room.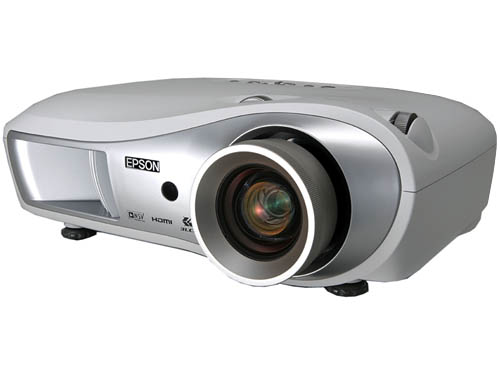 EMP-TW700 Home Cinema Projector has a very sexy and curvaceous look. It's always a good choice if you are targeting a good quality projector with lower budget. This projector is a high-resolution HD-ready projector. It delivers high definition and high contrast for widescreen movie action. The High Definition Multimedia Interface (HDMI) allows the EMP-TW700 to accept digital uncompressed signals directly from HD set top box or HD DVD player, and use advanced imaging processes for a near-theater experience. In simple language, it is compatible with high-end DVD players and the next generation of HD DVD and Blu-ray players that will eventually turn up in the market.
In terms of image effect, EMP-TW700 comes with the new 2.1x optical zoom lens; you will get the most clear, crisp images as small as 30 inches, or as large as 300 inches! It also has lens-shift functionality, which is good if you can't place the projector centered against its projection screen. In high brightness mode, the EMP-TW700 has a bright lamp of 1600 ANSI lumens which is bright enough for a gigantic 100in projection in a dimly lit room and 170-watt UHE lamp. The contrast level is at a whopping 10,000:1. The projector also has several different present colour modes that cater for different lighting conditions and also control the actual brightness of the lamp, so you can choose either longer life or better brightness. The lamp is rated to last 1,700 hours in the high-brightness colour modes and up to 3,000 hours in the low-brightness modes.
The Epson Auto Iris samples an image 60 times a second then adjusts its opening to suit the scene. The 3-LCD technology has panels with 1280 x 720 pixels to create a wonderfully colorful image. In fact, the 10-bit color processor makes it capable of reproducing 1.07 billion colors. It also has advanced colour calibration tools that allow users to tweak the gamma settings, white/black level and colour temperature to achieve the best possible picture quality.
Consider it if you are eager to set up your own permanent home theatre system. Good quality, comparative price (less than USD2,000), HD ready, flexible lens adjustments, quick and easy image adjustment as well as sharp image, the Epson EMP-TW700 lets you enjoy all your favourite movies, sports, video games and more on the big screen.