The leading provider of digital imaging products, Epson America has announced the launch of its new Epson MovieMate 60, which the company claims as the lightest, brightest and most versatile offering in Epson's innovative line of 'all-in-one' home theater projectors. MovieMate 60 combines a high-quality projector, CD/DVD player, microphone input, and stereo speakers in a single portable device, allowing users to enjoy their favorite DVDs, sporting events, TV shows, gaming consoles, and even karaoke up to eight times larger than 40-inch widescreen TV.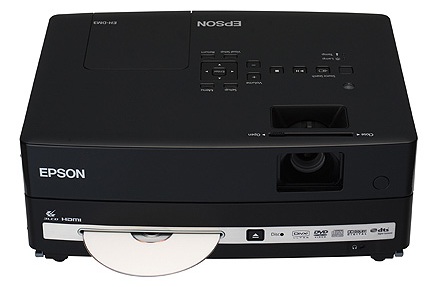 Main Features And Benefits Of Epson MovieMate 60:
Projects 16:9 widescreen 60-inch image from only 6 feet away or 120-inch image from just 12 feet away
3LCD technology, and energy efficient E-TORL lamp delivers 2,000 lumens of color and white light output
Two built-in 10 watt 5.1 Dolby Digital DTS speakers delivers great sound quality
Integrated progressive scan standard definition 540p resolution DVD/CD player
Built-in microphone jack allows for voice amplification
Easy plug and play connectivity including HDMI
Compatible with Apple iPod, Nintendo Wii, Sony PlayStation 3 and Microsoft Xbox 360
"These days, families are looking for more affordable ways to entertain themselves and share good times," said Marge Ang, senior product manager at Epson America. "Whether watching a movie, hosting a gaming night or singing karaoke, Epson's unique MovieMate all-in-one projectors help bring families and friends together with a big screen entertainment experience anywhere – in any room of the house or in the backyard."
The new compact and sleek Epson MovieMate 60 that includes a built-in handle and cushioned carrying case for added convenience is expected to be available in October 2009 for an estimated street price of $699.