Epson has expanded its award-winning family of 3LCD home theater projectors with the new Epson PowerLite Home Cinema 705HD, which provides families and home theater enthusiasts a versatile, high-quality 720p HD solution, including a basket of consumer-friendly features and benefits for enjoying the big screen HD performance at home.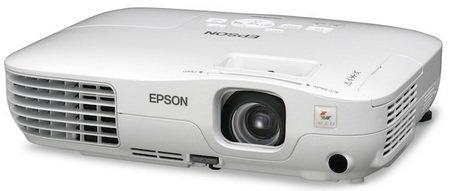 Key Features Of Epson PowerLite Home Cinema 705HD:
Three-chip 3LCD technology for incredible color, amazing detail and road-tested reliability with no possibility of color break-up or 'rainbow effect'
Movie theater-like images with 2,500 lumens of color and white light output to accommodate movie viewing or game playing in different environments – even daytime
Widescreen capability with high-quality 720p high-definition solution
Epson Universal Mount and 1.2x optical zoom, as well as Instant On, Instant Off technology allowing for no waiting time to start or shut-down projector
Component Video, S-Video, HDMI, and USB Type A connectivity for sharing photos and slideshows
Exclusive energy efficient E-TORL (Epson Twin Optics Reflection Lamp) provides optimum light uniformity and increased light output for screen sizes larger than 10 feet with exclusive 200 watt high efficiency design, using less energy for up to 5,000 hours of lamp life
"Whether you're watching your favorite movie with that special someone, or gathering family and friends to cheer on the home town team for the big game, there's nothing like the visual impact of viewing high-definition output on a 120-inch screen at home," said Marge Ang, senior product manager for Epson America. "The Home Cinema 705HD offers that experience to even more consumers with an affordable, easy-to-use, high-quality solution."
The new Epson Home Cinema 705HD versatile home entertainment projector will ship in coming October for approximately $750.