The leading manufacturer of graphics cards and motherboard, EVGA has announced its new Interview dual-display with 2 rotatable (vertically and horizontally) ultra-thin 17-inch TFT LCD displays capable of 1440 x 900 resolution, named as EVGA InterView 1770, which incorporates integrated 1.3MP webcam, microphone and 3 USB 2.0 ports, aiming to redefine today's face to face business interaction, ideal for business presentations, researchers, physicians, financial consultants as well as creative professionals use.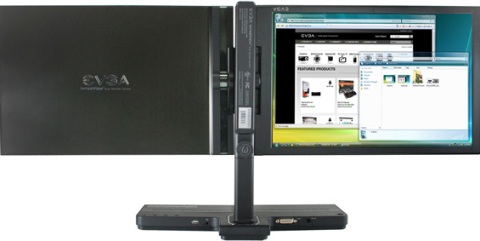 "EVGA now enables in a single system what used to be called a 'partners' desk, traditionally facilitating teamwork between two executives while facing each other. Users can rotate one of the InterView's panels over and both can see the same thing," said Dr. Jon Peddie, the Graphics and multimedia analyst of Jon Peddie Research. "Doctors can use it in a patient-doctor relationship for reviewing X-rays with patients, teachers can use it for one-on-one tutoring, engineers can use it where they want to have a collaborative discussion on a design…and you can use it yourself for having more screen real estate because the more you can see – the more you can do."
"We found the need to improve today's face to face interaction in all business environments, and that is why we spent so much effort to develop the InterView," explained Andrew Han, president of EVGA Corporation. "EVGA's unique, patented design for the InterView, using two rotating displays will redefine business interaction around the world."
The new EVGA InterView 1770 dual monitor system that features 500:1 contrast ratio and 220 cd/m2 brightness is available for MSRP of $649.99.