Exchanging business cards or name cards are essential in business and networking. However, organizing and storing these cards could be a tedious and space-consuming problem. With the emergence of the Internet and electronic devices such as the smartphone, this traditional method is gradually being substituted. Web services such as Dropcard service is one of the electronic methods available to exchange business information. Knowing the potential of this growing market, Apple iPhone is planning a new built-in feature where users can beam business cards to another iPhone user. While iPhone's business card feature is still in the pipeline, iPhone and iPod touch users who want to try the electronic way of exchanging their business cards can try this free mobile business card application, SnapDat.

SnapDat can be downloaded from App Store and it allows users to exchange contact data, business information, etc in the form of customizable and graphically rich electronic business cards called SnapCards. Preloaded with 40 design templates, users are free to design and customize different Snapcards which cater to different groups of people for different occasions. For instance, design A is packed with more business information and caters to business contacts whereas design B has more personal information and is customized for friends or relatives.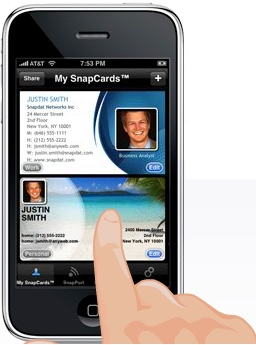 Users with SnapDat installed in their iPhone can exchange their respective SnapCards and the SnapDat app will integrate the business cards received and automatically transcribe these into users' iPhone's address books. The electronic business card is a one touch button to email, call or text the contact. Besides that, senders also can direct recipients to visit their social netowkring sites, view web sharing videos, and locate the address by adding relevant link/url to the information given. If the recipient is a non SnapDat user, users also can send their SnapCards via email. The SnapCard will be attached as a standard vCard attachment in the email.
The concept of business cards has been there for hundreds of years. But technology has a way of revolutionizing traditions and blazing new trails. Services like SnapDat may pick up momentum and become the way to exchange business cards in the future.