Another simple yet brilliant idea of the new product was introduced by EzKEY, a professional keyboard manufacturer in Taiwan. The innovation combines both mouse and keyboard in one device. Its unique design has able to differentiate itself from other competitors' products that can't provide a good numerical data input when comes to real usage. Some may think that it should looks bulky as compared to ordinary optical mouse since it has to squeeze in the numeric key. Surprisingly, the size just looks like normal mouse without the keyboard.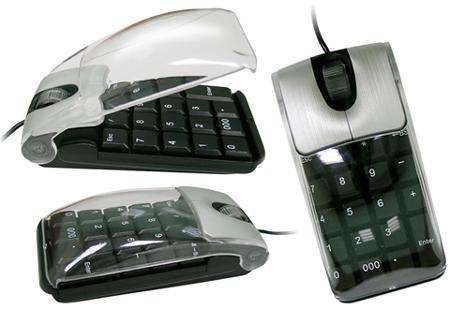 Comes with a flip type transparent cover, it can prevent the users from accidentally touching the numeric key when they intend to use it as normal optical mouse for fast internet browsing. But when it comes to the data entry task which requires a hard numeric keyboard, the user can flip the transparent cover and have a quick access to the numeric keyboard for convenience use and faster typing speed. If you are typical numeric data entry user, you will find it so useful to enter the numbers using hard keyboard as compared to soft keyboard on the PC screen.
Although it may looks redundant for normal desktop's users, but it will definitely bring benefits for those laptop users that require both numeric keyboard and optical mouse at the same time. There is information of white and black colors being offered. However, no pricing and availability date were announced yet.