Do you feel curious about what speaker got to do with motion? This unique, amazing and fantastic portable motion speaker's specialty is able to detect motion from a distance, especially the movement of your hand, and once it detects motion of within a few inches from it, the speaker will automatically turns up and down of its volume and frequency. With this unique motion technology, meaning this portable motion speaker carries no buttons at all as a button-free speaker.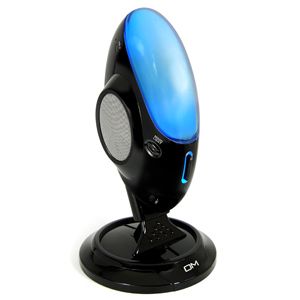 The portable motion speaker is also a mood light and an FM radio combined gadget. Its moodlight will change in three colors including red, blue and green, receiving your orders given to its built-in sensor by moving your hand.
This portable motion speaker is powered by 4 x AA batteries or a traditional AC power supply, and will connect to any device with a 3.5mm mini jack, so this means mp3 players, i-Pods, portable DVD players are all compatible.
However, its speaker power is pretty low, which is only a pair of 0.7 watts speakers built-in. This portable motion speaker is available in white or black colours for about $100. It's will be a good cool speaker to display on the desk.