Finally it is the Japanese company, Toshiba Corporation, which is the first manufacturer who manages to integrate a 512GB SSD into a laptop and push it to the market. The new Toshiba's 12.1 inch Dynabook SS RX2 has set a new industry milestone and become the world's first laptop that features 512GB Solid State Drive. The new laptop weighs less than 2.5 pounds and measures less than 25mm. Its lightweight and slim design enhance its "mobility" substantially and users can conveniently carry it along. Another key design concept of this new Toshiba Dynabook SS RX2 is its energy saving ability.

Using Intel Core Duo Processor and adopting ultra-low voltage CPU for less power consumption, the display for RX2 is designed by using a transflective LCD which can fully render natural screen images to be brighter and more visible without the necessity of switching on the backlight. Read more details on specifications of Toshiba Dynabook SS RX2.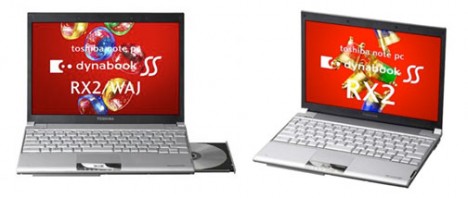 Currently this new Toshiba Dynabook SS RX2 is available at Toshiba's on-line shop but limited to the Japanese market only. Since it is integrated with SSD which costs around $1,500, the selling price for this new laptop is considerably high, at $4,400.