The diversified manufacturer and marketer of advanced electronic and electrical products, Toshiba has announced its new Dynabook SS RX2 series, for replacing the old SS RX1. Dynabook SS RX2 features with the world's first 512GB SSD (Solid State Drive), and is ultraportable, has slim dimensions and long-lasting battery operation. The new Toshiba Dynabook SS RX2 integration of an SSD to reinforces hallmark of it, that uses 2-bit-per-cell multi-level NAND flash memory to deliver the world's largest capacity SSD. In other words, with the Toshiba Dynabook SS RX2, users get all the speed and safety of an SSD drive and none of the space limitation compared to old fashion hard drives.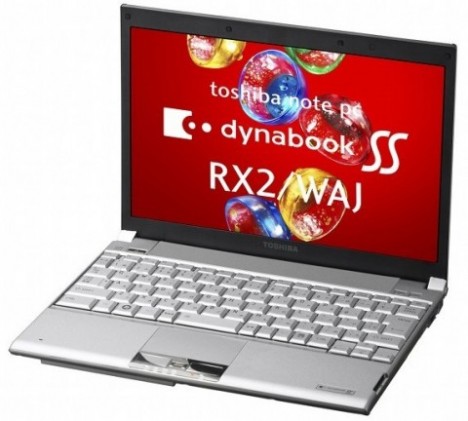 This new Toshiba Dynabook SS RX2 is able survive from 75cm drop, 100cc water drop and 100kg pressure. The RX2 also achieves an energy-saving design that step-down power consumption by adopting an ultra-low voltage CPU.
Features of Toshiba Dynabook SS RX2 as below:
Display/Graphics: 12.1-inch LED backlight widescreen with 1280 x 800 display, powered by the Mobile Intel GM45 Express Chipset
Intel Core 2 Duo processor SU9300 1.2GHz
Up to 3GB DDR2 RAM
Up to 160GB HDD or 128GB SDD
Support WiFi 802.11a/b/g/n connectivity and 3G
12-hour battery with SSD
Built-in web camera
3 USB ports and D-Sub out
Fingerprint scanner
SD/SDHC memory card slot
DVD super-multi drive
Toshiba Dynabook SS RX2 is available in several models. There is RX2/T9GG and RX2/T9G offers 128GB SSD for storage while the RX2/T8GG, RX2/T7GG, RX2/T8G, RX2/T7G and RX2/S7G come with 160GB hard drive.
The RX2/T9GG, RX2/T8GG and RX2/T7GG feature KDDI CDMA 1X WIN WWAN module for mobile broadband. On the other hand, RX2/T8GG and RX2/T8G comes with Microsoft Office 2007 SP1 with PowerPoint 2007 SP1 software pre-installed.
The new Toshiba Dynabook SS RX2 netbook measures just thickness of less than 25mm and weight only 1.1kg. Toshiba Dynabook SS RX2 netbook is now available through Toshiba's online shop for starts price from $1500.