If you are frequently tracking your weight manually to try to keep in balance with healthier BMI index, why not try this powerful next generation digital weighing machine called Withings. Manufactured in France, it is claimed to be the world's first WiFi enabled electronics body scale that can be connected to internet to synchronize weight, fat and BMI information so that you don't have to keep tracking them manually.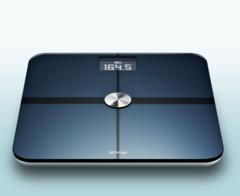 Being designed in durable tempered glass in sleek and stylish metallic outlook, the scale can be fitted well into your digital home for weight and health balance control for your family use. Further featured with a relatively large backlit display screen, it provides an easy-to-read capability even when you are standing straight and to make it more unique, it can be connected through WiFi network and stream those data to secured personal page on their website so that you can start keeping track all your health indicators from time to time without hassle of memorizing or recording them down somewhere. On top of this, it is able to keep track and manage your whole family members up to 8 users with individual tracking profiles. That is not all, an apps called WiiScale has been developed dedicated for Apple iPhone user so that these useful data can be downloaded and displayed on your iPhone even though you are away from desktop PC system.
At a retail price of €129, the wireless weighing machine is already available for order now and hopefully you can sustain a well balance BMI index with more healthy life based on the advanced and easy tracking mechanism.