Windows 7 Jump Lists contains a list of recently used, opened, visited, or accessed items; or frequently used, opened, visited, or accessed entries; or most visited web pages, in addition to common tasks for the application programs' icons or buttons on Taskbar. The history, collectively called recent items, can be pinned to make it permanent, provides easy access to the file without searching or navigating the folder.

However, on some Windows 7 system, user may experience issue where the recent items and also the pinned entries on Jump Lists does not been displayed or shown, missing or been cleared and removed without reason. Jump Lists does open when user right clicks on the icon or button on Taskbar, however, the dynamic recent items list on top of the Tasks section on Jump Lists does not appear.
The symptom is known to be at least happening to JumpLists of Office 2007 applications, such as Word 2007, Excel 2007 and PowerPoint 2007. The problem occurs despite a lot of documents and files have been opened by the program. And user does not delete and clear the Jump Lists recent items too.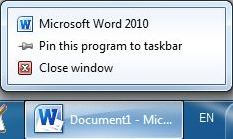 The issue may happen because one of the Jump Lists' recent items in automaticDestinations hidden system folder is corrupted.
Delete or clear Jumplist recent items in Windows 7 that is corrupted in AutomaticDestinations-hidden system folder is the likely solution.. To resolve and fix the issue, follow these steps:
Open Windows Explorer.
Type or copy and paste the following into the address bar:

%AppData%\Microsoft\Windows\Recent\AutomaticDestinations

Identify files that are comparatively larger in size than the rest of the file, such as files that have file size of 1 MB or more.

Delete the abnormal file.

Tip: If you does not want to retain the Jump Lists' recent items history on all applications, just delete all the automaticDestinations-ms files in the folder.

The recent items functionality on Jump Lists will be restored. The recent items on the Jump Lists will be re-added as the program is been used. However, do note that the solution does not restore the previously pinned items. So user will have to pin new items again.