Cisco has announced a latest innovation in home entertainment sharing – FlipShare TV, the new gadget which provides users a fun, simple way to watch videos and photos from their FlipShare library on a big screen without wires. As what you see in the photo, FlipShare TV arrives in 3 part – FlipShare TV base, FlipShare TV USB key and wireless remote.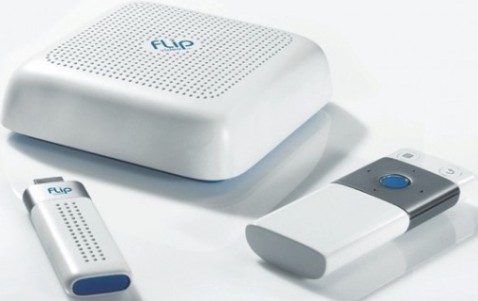 "We're bringing back the home movie night," said Jonathan Kaplan, senior vice president and general manager of Cisco consumer products group. "There's now a simple and affordable solution to view and share photos and videos on any TV."
Features and functions of FlipShare TV:
Watch Flip Video library of photos and videos instantly on a TV
Automatically access video shared via Flip Channels
Share video instantly with other FlipShare TV owners anywhere
FlipShare TV includes TV Base, USB Key and Remote
Wireless 802.11n point-to-point proprietary interface
FlipShare TV that designed to work with FlipShare 5.0 is available through Amazon
(aff), BestBuy.com, Target.com, Wal-Mart.com and the official Flip Store for around $150.