IDrive is a online backup service which allows user to backup or sync data files to the online cloud storage space. Previously, IDrive had been given free 2GB of online backup storage space to customers who sign up for IDrive Basic plan. The free disk space has since been increased to 5GB (a little lesser than free 5.5 GB from SugarSync), and to make the deal sweeter, IDrive will also give away $10 iTunes Gift Card to users who use IDrive Lite, the client app for iPhone, Android and BlackBerry mobile device.

Features of IDrive:
Automatic selection of most commonly backed up data including Documents, Pictures and Videos to backup on random after hours schedule.
Continuous Data Protection (CDP) in real-time.
True Archiving / Sync – No data is deleted from your IDrive online account until you manually delete or run sync to match your desktop data to your account.
Open/Locked File Backup
Mapped Drive Backup
IDrive Explorer offers a 'virtual drive' view of your account to access and restore backed up data with drag-n-drop.
Search and Restore
Time-Line Restore for restoring related data as of a point-in-time.
IDrive retains the last 30 versions of all files backed up to your account for future restore, and the historical versions are stored free.
Retrieve data from any location.
Create and manage multiple accounts.
Web Based Backup Management
Support incremental and compressed backups.
Enhanced security with 128-bit SSL encryption on transfers, 256-bit AES encryption on storage with a user defined key that is not stored anywhere on IDrive servers.
Works behind most firewalls with proxy support.
Scheduled backup even if system is logged off; automatic power off after completion of the job.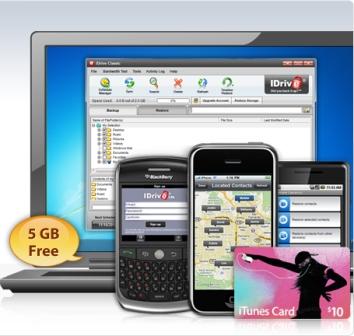 Anybody who sign up for the IDrive Basic (aff) free account automatically get 5 GB of free storage space. However, to get the free $10 iTunes giftcard, user needs to register the IDrive through IDrive Lite by following steps below:
Install IDrive Lite (aff) on your smart-phone and backup your contacts for FREE.

Note: IDrive Lite is available for iPhone, iPod touch, iPad through iTunes App Store, BlackBerry through BlackBerry App World, and Android devices through Android Market.

Download and install IDrive on your Windows PC from IDrive.com and start backing up your files for FREE.

Note: IDrive Lite authentication also doubles up as your Windows IDrive authentication. You will need to backup at least 1GB of data to be eligible for the free $iTunes gift card promo. IDrive for Mac works on different technology, and thus does not eligible for the promotion.

Once you've backed up your files you'll automatically receive a $10 iTunes Gift Card by mail, all for FREE!
Note that the free iTunes gift card is for new IDrive users only, who resides in US and of 18 years old or older.
Note: It can take up to 72 hours, after you have started backing up your data, in order to receive your email confirmation for the promotion.