Pro Softnet has announced its iDrive For Mac software. iDrive for Mac software is a user-friendly, secure and reliable application that performs automated online backup of your files and folders. iDrive for Mac has a backup scheduling features which allow users to define their backup scheduled and select the files that to be backup.  After the completion of backup, iDrive uses data compression to speed up the process and using 128 bit SSL encrytion features while transfer files.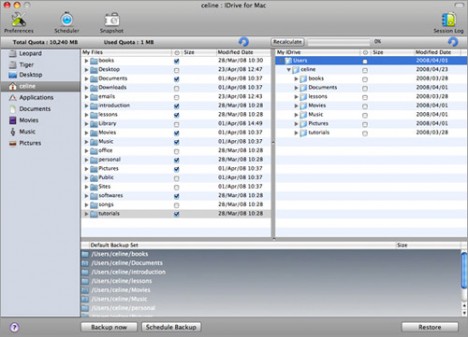 Other features of iDrive for Mac as below:
Incremental backup which only modified portions of files are backed up, thereby conserving bandwidth.
Snapshots which allow users to retain changed of data history for a period of times.
Provision to regulate the internet bandwidth usage with the Bandwidth Throttle feature.
Provision to perform interactive backups/restores or schedule backups for future date and time.
Automatic Power off option after a scheduled backup where the machine will automatically shut down once data is completed backup.
A Plug in for the Finder is also available which integrates with Mac OS X, making access to user iDrive account on Mac as easy as window explorer. With this Finder Plug-In, users can just drag n drop the critical files/folders that need to backup or restore.  
Currently, users are able to register for the iDrive (aff) service at no cost with 2GB account or if the user look for more storage space can choose to upgrade to pro account starting at $5 per month for 150GB of storage.