New strains of viruses keep appearing on the Internet despite attempts to wipe them out. The market is rife with antivirus programs and antivirus companies scramble to provide free solutions in an increasingly competitive market. Established names in the industry include Norton, Kaspersky, McAfee, Avira, Norton, etc. The Romanian security expert, SOFTWIN, renown for its BitDefender suite, has also offered a free version of BitDefender, known as BitDefender 10 Free Edition. The BitDefender 10 Free Edition is pre-registered with an activation key which can be downloaded by users with only a few simple steps.

To get a copy of the BitDefender 10 Free Edition, users just need to go to the BitDefender evaluation page to fill in some simple information and the software company will email users the antivirus software download link, or or directly download the setup installer.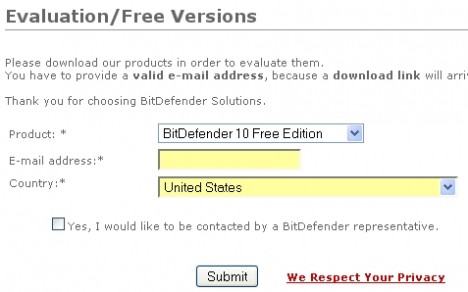 Fill in the details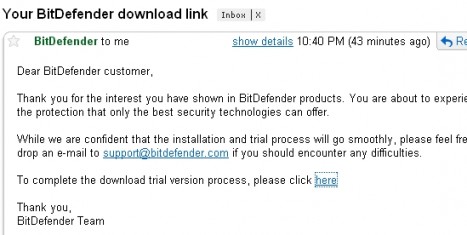 Users will receive the download link from BitDefender
With the download link given, users can click on it to lead them to the downloading process. After downloading, users can install and start using it. The installation process will be guided through a simple wizard and no authorization key or activation code is required.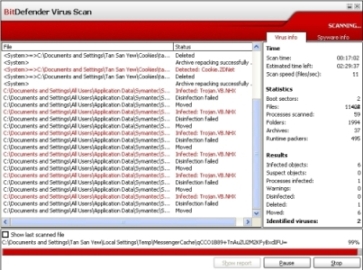 Scanning Process
BitDefender 10 Free Edition applies the same ICSA Labs certified scanning engines found in other BitDefender products. This antivirus application offers a powerful scanning device and the product is updated automatically for free. Similar to other antivirus software, this antivirus program can do scheduled scanning, conduct thorough scanning as and when required, quarantine suspicious viruses and provide scanning reports to users. Of course this Free version cannot match the pay version, e.g. by providing firewall protection, but with no costs incurred, why should one complain? Anyway, it's also possible to get free 1 year BitDefender 2009 license.