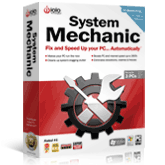 When your car breaks down or in need of tune up, you will sent the vehicle to mechanic. So when your PC computer system breaks down or desperately need a performance tune, who would you go to? Indeed, there is no need to send the system anywhere with System Mechanic from iolo.com. System Mechanic can automatically repairs errors and fragmentation, cleans out clutter, fix hard drive errors and tunes up the PC so that it runs smoothly, reliably, and up to 300% faster, including Internet access speed up and download acceleration.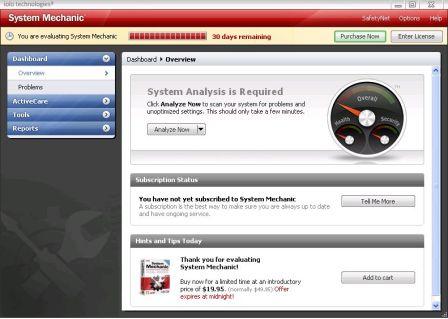 Comparing with iolo System Mechanic 6, which free license is also available, iolo System Machine 8, which is the latest version of System Mechanic series, adds or enhances on the following features:
ActiveCare 2.0 keeps PC running like new with leaner, smarter, and even better at keeping your PC humming along at full speed with idle-time silently background processing by detecting battery power, CPU activity and more.
Defragment and Compact Registry tool for registry optimization with color-coded graphical feedback.
DriveSense for real-time hard drive status including temperature.
New navigational links within the tools simplify moving throughout System Mechanic.
iolo's library of programs and program components has been expanded to target resource-robbing programs unnecessarily clogging your PC's startup process and to detect potentially dangerous software.
System Mechanic now inherits your Windows Vista Aero theme for an integrated look and feel.
Access to Windows Firewall is now integrated into System Mechanic for seamless updates and configurations.
Other features of System Mechanic 8 includes TotalCare which runs PC Repair, Accelerator, Cleanup and Security Wizard in one go, Netbooster, Advanced Disk Defrag for high-speed, boot-time, low-level ultra-deep defragmentation, DriveMedic, System Customizer, Incinerator, SafetyNet, IntelliStatus and many more.
Subscription for System Mechanic 8 costs $49.95 to purchase with first year service, and then the subscription is renewable at $29.95 annually. Users who download System Mechanic trial version from iolo.com will get only 30 days trial period. Now, users can get free six month subscription liccense for iolo System Machine 8 (SM8).
To get the free System Mechanic 8 activation key serial number valid for 6-month subscription, visit the following URL:
http://www.iolo.com/landing/?pid=D7C5BB10-6A12-4996-8199-0A2BB197B9B5
Complete the checkout process to 'purchase' the iolo System Mechanic 8 with 6 months subscription at zero cost. No credit card information required. A valid email address is required for activation key to be sent. Remember to select electronic email delivery and download as physical box product delivery will be charged.
Download and install System Mechanic 8 setup installer (sm_dm.exe), and then use the activation to activate SM 8 to full version product without usage limitation. Note that evaluation and full version of SM8 uses the same setup installer. During installation, choose the option that "I own System Mechanic and can enter my serial number later", and then enter the license (activation key or serial number), or click on "Enter License" at program interface to convert the evaluation version to full iolo product.
Update: Free iolo System Mechanic 9