Registry First Aid 6 is reliable registry tune-up and repair software for Windows operating system that able to optimize, keep tuned, error free and speed up system to ensure maximize PC performance. Registry First Aid 6 (aff) comes with user-friendly interface, which can detects Windows registry problems that cleaning up registry database to free unneeded ballast for system. In addition, Registry First Aid 6 also can scan the Windows registry for orphan file or folder references to corrects registry entries to match the located files or folders. Moreover, Registry First Aid will find an invalid entry that links to the files of deleted applications to remove the files from registry. The Registry First Aid 6 also supports Windows Vista registry, running in a least privileged environment, create undo files provided in RegEdit4 formatting, and display snapshot descriptions in registry snapshot lists.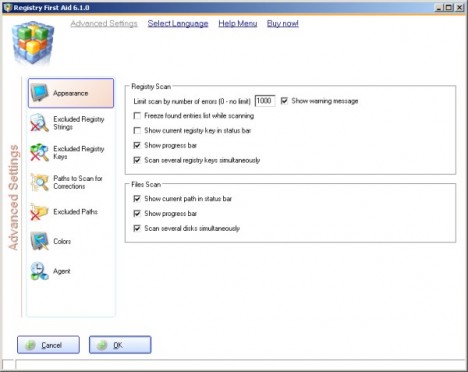 Features of Registry First Aid 6:
Scan the registry for invalid or bad entries
Clean registry errors and invalid entries
Backup registry entries
Registry defragment
Scans registry for orphan file/folder references
Corrects registry entries to the located objects
Scan the hard drive for the missing files
Save a backup file of the registry
Fix the registry
Support running in a least privileged environment
Registry First Aid 7, the latest version of Registry First Aid, normally costs $29.95 for purchase or users can download the latest version Registry First Aid 7 trial version (aff) for only 30 days free usage. However, as part of promotional offer from Avanquest, interested users now can grab the valid license Registry First Aid 6 by follow the step below:
Visit the following URL to register for free Registry First Aid 6:

http://register.avanquest.com/ABSOFT/produits/Promotion/enregistrement_presse/register_cov_gd.cfm?idcgd=422

Fill in the email address, then click Downloaden button to register.
Then will forward to the web page that need to fill in the email adderess, name, and country.
Once fill in the form, click the Software jetzt gratis downloaden button.
Copy the license key and download the Registry First Aid 6 via "Downloaden" button or by using the direct download links below:
Install and enter the license key to enjoy the free full application.
Registry First Aid 6 support Windows 98, Windows ME, Windows NT 4.x+SP6+IE4, Windows 2000, Windows 2003, Windows XP, and Windows Vista (32-bit Windows Only).
Update: Registry First Aid 7.1