Previously we mentioned about Extensoft Screen Capturer and CaptureWizPro that can helps to capture both still images and animations for sharing, now there is a similar tool but with slightly more configurable feature sets that can assist users with own customization. Named as Free Screen To Video v1.0, it captures screen with cursor movement together with audio recording on desktop that can be shared to third parties as movie clips in various famous media formats.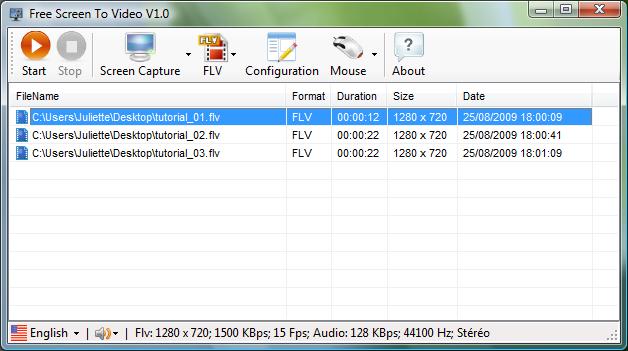 During the installation, users will be prompted to install the Microsoft codecs to support Wmv format which requires additional 11MB of hard disk space. If there is no need to use Wmv format and in order to save space, just untick the selection and proceed with the custom installation. Once completed and launched the utility, users will be brought to a simple GUI. To begin the recording, click on 'Start' button to define the output file on the location to be stored. At the same time, users can customize the captured area either to cover the entire screen, window selection only or specific area by moving the mouse with respective rectangular box. Then, choose the media format such as FLV, WMV, AVI or SWF so that the recording will be saved accordingly. That is not all, users can choose to turn on/off the audio recording, fps (frame per second), audio frequency, channel, bitrate as well as screen resolution size. Once everything are defined, the recording will start with a red balloon indication at the system stay and users can at any time, pause (by pressing F9), stop (by pressing F10) or click on the balloon to stop the recording.
At a file size of 4MB, the utility is compatible with Windows 2000/XP/Vista and even 7 Operating Systems. This is quite useful especially when you are trying to create an online tutorial, self starter CD guide for system troubleshooting or simply to show some procedures for more effective communication. If you think this is useful, just get a download here at no charge.