USB Safely Remove is a USB device manager, literally, which helps users to work efficiently and easily with flash drives, portable drives, external disks, card readers and other gadgets. Free USB Safely Remove 4.0 license was been given away previously. For those who miss out the previous offer, or want to upgrade to latest version of USB Safely Remove 4.1, the developer is now giving away free license for USB Safely Remove 4.1 to everyone who requests.

USB Safely Remove 4.1 improves on program autorun feature to support unlimited number of processes to launch, optional command line parameters, new events to launch programs, and global autorun for all hotplug devices. USB Safely Remove 4.1 also includes one-click templates to allow users to setup all the listed actions with a few mouse clicks. USB Safely Remove 4.1 program icon in the system tray is now also changed depending on the state of devices such as when all connected devices are active, no connected hot-plug devices, or one or more devices are stopped but not unplugged yet.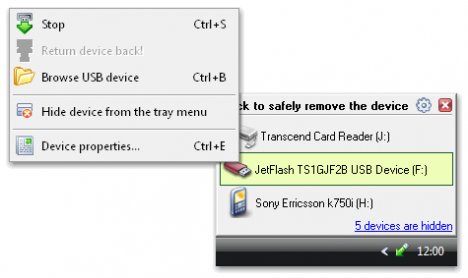 And of course, the strength of USB Safely Remove is still there, such as handy menu to stop devices, ability to show user programs which prevent the device from being stopped and let user close these programs or just files they opened on the device, keyboard shortcut support, USB, SATA, FireWire, PCMCIA support and return stopped device back online.
To get the free lifetime license with genuine unlimited and unrestricted usage registration key code, go to the following promotion page to register:
http://safelyremove.com/giveawayweeka9.htm
Enter the full name and valid email address, and click on "I want the license!" button. Note that registration serial key code is not immediate, but the license information request will be sent within 24 hours. The email is sent by "USB Safely Remove " with the subject of "The USB Safely Remove License Key For v. 4.1", complete with registration information.
Download USB Safely Remove 4.1: usbsafelyremovesetup.exe
USB Safely Remove 4.1 supports both 32-bit and 64-bit Win 2000, Windows XP, Windows Server 2003 and Windows Vista
The free lifetime license is valid only for USB Safely Remove program current version of 4.1. All other aspects of free license policy will be the same as for paid licenses, which mean one personal license is enough for each of all user's computers. However, upgrade to any future versions (and even to downgrade to a previous one), a lifetime license has to be purchased. The offer ends August 25, 2009.