Posted:
November 28, 2008
/
Under:
Operating Systems
/
By:
My Digital Life Editorial Team
Tired of having to click and click again just to safely remove a USB or FireWire hardware device? For users who plug in multiple external devices and portable storage drives, safely removal can be a major headache, as all the devices will have almost the same name of "USB Mass Storage Device", making it hard to identify correct drive to dismount. And if you accidentally safely a connected device, it's kind of inconvenient to unplug and replug in the device again in order to use it again.

USB Safely Remove is a software program that fixes all annoyance related to "Safely Remove Hardware" tool in Windows operating system. It's a neat and handy replacement for the standard 'Safely Remove Hardware' tool, and can life easier and save time for those who uses Plug-n-Play feature extensively or have several hotplug (USB, SATA, Firewire) devices.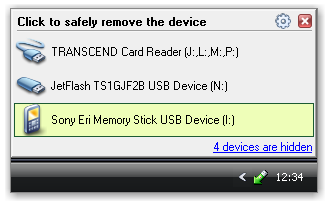 Features of USB Safely Remove:
The ability to hide any device from the 'stop' menu so that users won't accidentally stop devices such as card reader, SATA hard drive or ADSL modem.
Uses true real device names based on manufacturer's description or volume name, and allows renaming.
Keyboard shortcuts for easy device stopping.
Unique menu for one-click stop.
Programs autorun on device plugging/unplugging, i.e. starting programs after connecting and before removing a device.
It tells you why a device cannot be stopped immediately to easily fix the device cannot be stopped right now error.
Guaranteed device stop unique technology.
Notifications about connected and removed devices.
Command-line interface to automate work with devices.
Customizable icon in the system tray.
USB Safely Remove version 4.0 also adds the following features:
"Return device back" feature to return the yet-to-unplug device back in one click without physically replug the device.
Stops any kind of hot-swap devices such as PCMCIA, FireWire, USB and Silicon Image SATA devices.
Hiding drives of empty card reader slots.
Ability to eject card reader memory cards.
Drive letter management.
Exploring a device drive in an alternative file manager.
Mount point support as a folder instead of drive letter.
USB Safely Remove costs $20 for personal lifetime license which can be used on unlimited number of computers. However, nothing beats free. Now, to promote upcoming USB Safely Remove version 4.0 (currently in beta stage), safelyremove.com is giving away one-year license for the USB Safe Remove 4.0 for free.
To grab a license with registration name and registration code for the USB Safe Remove, visit the following web page:
http://safelyremove.com/giveawayweekp.htm
Fill in your full name and email address, and then hit the "I want the license!" button. Registrants should receive a registration name and registration code for USB Safe Remove 4.0 within 24 hours. While waiting, deal grabbers can download and install USB Safe Remove and use the program as trial version fist using the following download links. The trial version is not limited with all features functioning for 30 days. Once the license key has been received, enter the serial number via "Enter License Key" sub-menu of "Help" menu to unlock the software for continued use for 1 year.
The giveaway promotional offer lasts from November 27th and continues until December 3rd, 2008.
Download USB Safe Remove version 3.3 (v3.3.1): usbsafelyremovesetup.exe (for Windows 2000 to Vista)
Download USB Safe Remove version 4.0 (v4.0 beta 8): usbsafelyremovesetupbeta.exe (for both 32-bit and 64-bit of Windows 2000 to Vista)