Previously we mentioned about Easy Video Joiner that can merge media contents in simple steps, now if you are looking for ways to split the media files into smaller size, this software utility will be able to help you. Named as Free Video Cutter v1.1, it allows users to slice the file into smaller piece and stored them into various media formats at preferred.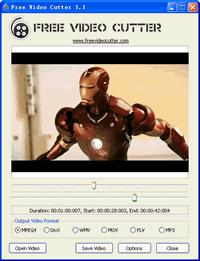 Once download and install the software utility, just launch it and it will bring you to a simple GUI. For the start, users can click on 'Open Video' to browse for the specific media files that intended to be split. Do note that it may take some times to create video thumbs depending on the original file size and media clip length. After completion, users can define the start and end point of the media clip by scrolling to the mouse to the desired points respectively. Good thing is, there is an option for users to choose the output video format such as MPEG4, DivX, WMV, MOV, FLV and MP3 so that it can be used by different applications.
The software utility is quite useful especially for those that would like to select interesting media portions without occupying too much of their local hard disk space. If you think it is useful, users can download here for immediate use at no charge.