Apple iPad has created a new wave with more and more PC manufacturers diverting their direction to develop touchscreen based tablet PC targeted for consumer market space. If you wonder the same trend is true for embedded market, the recently announced resistive touch screen with multitouch capability from Fujitsu may clear your doubt. With the extra sensitive touch screen layer, it allows and transforms conventional panel into sensitive touch interface suitable for digital signage, POS (Point of Sale) or Kiosk usages.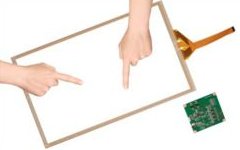 Unlike some other touch panels, the Fujitsu designed panel is claimed to be able to process both finger and stylus actions simultaneously, simplifying the input method regardless of different systems. For instances, users can do accurate hand writing using stylus, while at the same time trying finger control like rotate, pinch, zoom and etc. With its size ranging from 5.6 to 12.1 inches, it can fit well for different panel types and resolution without being restricted to specific form factor.
No pricing and availability yet, the multi touch panel is compatible with Windows 7 (dubbed to be the first touch panel to obtain Windows 7 logo certification in the industry) now and is expected to support Windows Embedded Standard 7, Linux, Android in short future.