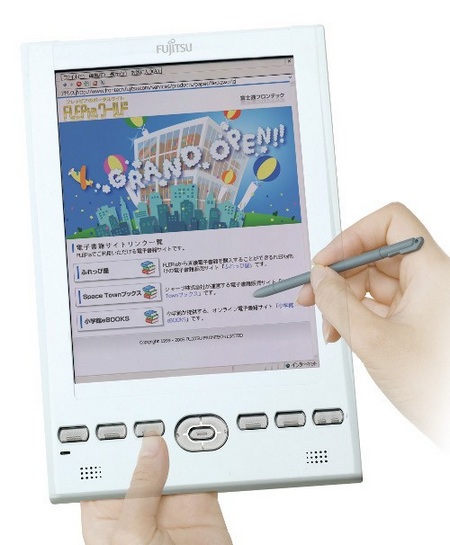 If black and white is a bit monotonous and doesn't satisfy your reading pleasure, Japanese company Fujitsu now offers something which Amazon Kindle 2 hasn't – a color e-book reader (also called e-paper mobile terminal). Labeled as FLEPia, this long waited e-paper mobile terminal from Fujitsu has finally arrived and is available for purchase through Fujitsu Frontech's online store "FrontechDirect" now.

Described by Fujitsu as "the world's first color e-paper mobile terminal," FLEPia features an easy-to-view 8-inch XGA display screen which can show up to 260,000 colors in high-definition. In addition, this electronic device is Bluetooth and WiFi enabled, besides featuring significant storage capabilities, e.g. up to 4GB via SD Card. Based on this storage capacity, the color e-paper terminal can keep up to 5,000 conventional paper-based books for a 300-page book at 600KB per book. According to Fujitsu, FLEPia is power efficient. It allows 40 hours of continuous use when the battery is fully charged. In terms of operation, this tiny device can be controlled via its touchscreen surface or its assortment of function buttons. As for the Japanese version, FLEPia has also included Microsoft Windows CE5 which enables the use of an internet browser, e-mail, and various software on the device.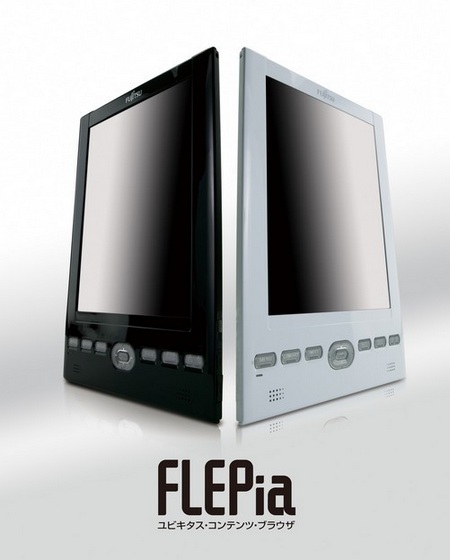 The Fujitsu color E-Paper mobile terminal FLEPia is priced at $1000 (99,750 Yen). For an e-book reader, the price of FLEPia can be considered quite high especially since the Kindle only costs $359. Fujitsu comes in black and white. The optional book cover and storage case can be obtained for 5800 Yen and 5500 Yen respectively.