The consumer buying process is always complex and complicated to understand. Some people might like richly-featured products but many people would still prefer very basic and simple stuffs. Knowing the fact that its famous Forerunner GPS watch series could be too complicated and over featured for some runners who might just need a basic GPS training, tracking and sports watch, Garmin has unveiled its new Forerunner 110 which caters to this particular market. Garmin Forerunner 110 is a simplified and feature-streamlined sport watch compared to its predecessors; it offers an entry-level solution for runners, sport enthusiasts, joggers, walkers and other fitness freaks who need some important real time fitness data.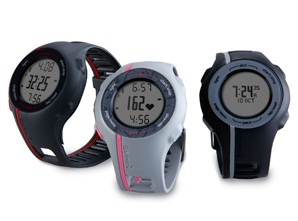 "Show me the Garmin watch that has GPS and is easiest to use". The new Garmin Forerunner 110 focuses on simplicity without compromising accuracy. This GPS watch will show users instant readings on distance, pace and time simply with the press of a single button. This sports watch can also be synchronized and used together with Garmin heart rate monitors to get current heart rate data and heart rate-based calorie computation.
Garmin Forerunner 110 is water resistant and features a highly-sensitive SiRFstarIV GPS receiver with Garmin's HotFix technology to quickly acquire and sustain satellite reception. The GPS watch is powered by a built-in battery which can last up to 8 hours in GPS/training mode or 3 weeks in power saving mode. It is connectible via USB cable to upload the data stored to a computer for further fitness analysis.
The Garmin Forerunner 110 is priced at $249.99.