Gmail offers a list of shortcuts to help users to speed up their work in Gmail with their standard keyboard. It might take you some time to remember all these shortcuts if you want to fully capitalize on them. If memorizing these shortcut commands is something really impossible to you, but you still want to look for some ways to speed up your work when managing you mail account, Gboard, a mini keyboard can do the trick.

The Gboard is basically a numeric keypad that can be plugged into a USB to connect to your PC. The keys are labeled according to Gmail's keyboard shortcut commands. It certainly improves your efficiency in being able to tap the correct key without pausing to remember the command for a particular action you require. The Gboard works with both PCs and Macs.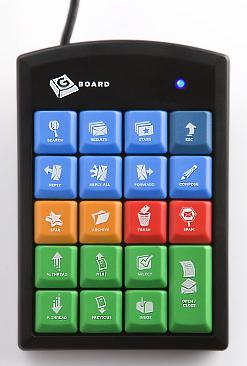 There is, however, one glaring limitation in using this mini keypad. The keypad only has about 19 out of 69 of the shortcut commands in Gmail. Thus, users still need to memorize most of the shortcut keys and switch to the keyboard for the functions not available in Gboard.