Can you imagine that you can connect both of your PC and devices through USB cable at a distance of more than few hundred meters? It is abnormal to get a USB cable of more than 2 meters. And sometimes you may be able to achieve a tenth meters by hooking them through a hub. Now there seems to be a way to achieve this with the new release of USB Range Extender by Gefen. The model, known as USB-400FO is an optical fiber based USB extender utilizing Extreme USB technology that extends the cable length up to 500 meter.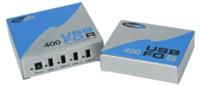 The Gefen USB-400FO extender utilizes two end points – one as sender and the other one as receiver each powered by individual supply for the high bandwidth transmission to take place. The sender, connected to the host PC through USB 2.0 interface is responsible for the link setup while the 4-port USB 2.0 hub receiver can be connected to any USB compliant devices for remote access and control. While both of the endpoints play an important role to be connected to any USB 2.0 certified devices, there is an optical medium between them that is able to reduce impedance and noise significantly and establish an ultra high bandwidth for data transmission of up to 480 Mbps over few hundred meters range.
The device is useful especially for professional work. But if you are willing to pay $1600 just to get long range remote access through USB devices to your PC, then this could be a good solution for you.