Gemtek Technology Co Ltd, a Taiwan ODM (Original Design Manufacturer) has recently shipped its latest VDSL2 residential gateway to its customers. The new VDSL2 residential gateway features a new network processor from Fusiv and a total solution from Ikanos Communication, one of the leading providers in VDSL and Fiber technology. With all these framework and solutions in place, Gemtek has able to develop a new high end product with triple-play capability in ensuring high bandwidth data, voice and video application.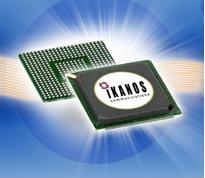 Known as Gemtek WVDK-105G model, the residential gateway is powered by Fusiv network processor which is responsible for handling main processing. Whereas Ikanos chipset is used for offload switching and routing capability so that unutilized CPU headroom on the Fusiv processor can be used to run other high level applications for better value added activities.
In terms of software architecture, Ikanos offers a comprehensive solution that includes fast path feature for high speed packet processing without much intervention from CPU, acceleration processing as well as QOS (Quality of Service) in prioritizing voice and video streaming for better performance. VDSL2 is famous technology especially in Europe that can deliver more than 100 Mbps broadband services to your home.