Previously we mentioned about ArduoPDFMerger that can split and merge PDF files in simple steps, now there is another alternative utility that can help you achieve the same result. Named as GIOS PDF Splitter and Merger, it is a free and open source utility that can perform similar function with extra ability to merge image files with conversion to PDF format.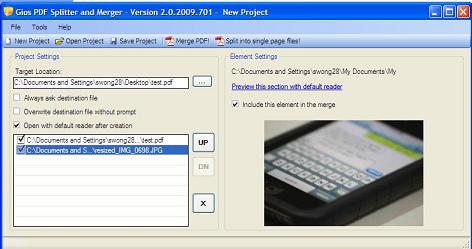 Once download the utility, users can just launch it without the need of installation and you will be brought to a simple GUI. Without complicated setup, users can start creating new project by selecting the target location in which all the new tasks will be stored here. Once the new project has been created, just go ahead to browse for PDF files so that it can be merged accordingly. Also, there is a way to choose the sequence of arrangement by highlighting on respective PDF files for a preview followed by 'Up' or 'Down' button. Besides merging, the tiny utility also allows file split into single page for further edition. Good thing about this tool is it can even add image files (in JPEG format) and merge them into PDF format together with other PDF files as desired. Similar to other tools, the new project can be saved for future retrieval by clicking on 'Open Project' button at a later stage.
Consumed less than 100kB of your hard disk space, the utility is free for download here for immediate use. The only pre-requisite is users will have to install Microsoft .NET Framework 2.0 for it to work correctly.