Google has just released Google Chrome version 2.0.164.0, which users should get the latest version updated automatically from Google Chrome Beta branch. Updated version 2.0.164.0 of Google Chrome is compatible with Windows XP Service Pack 2 or later and Windows Vista. The latest version was dropped just a week after version 2.0.162.0. For unknown reason, Google Chrome 2.0.164.0 may also be version 2.0.164.1.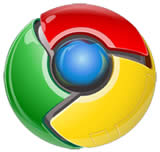 Google Chrome update 2.0.164.0 contains bug fixes and improvements, including the following:
Fixes a crash related to tab dragging
Fixes several problems with making Google Chrome the default browser on Window Vista
Fix for auto-detection of encoding
Fix memory leak and browser crash
Fix to prevent unresponsive plug in processes from locking the browser user interface
Fix a browser crash
Available in 8 Indic languages like Bengali, Gujarati, Kannada, Malayalam, Marathi, Tamil, Telugu, and Oriya(only work in Windows Vista)
Google Chrome users can check either version is the latest version by clicking on About Google Chrome under the Wrench menu. If the version not shown the latest version and automatically updates don't perform, users either can simply click the update button or download directly using the following direct download links.
Google Chrome 2.0.164.0: http://dl.google.com/chrome/install/164.1/chrome_installer.exe
Google Chrome 2.0.163.0: http://dl.google.com/chrome/install/164.0/chrome_installer.exe